Oriprobe assembled a wide array of special resources, which could support the needs of medical libraries, Chinese medicine information centers, pharmaceutical companies, medical researchers and students. From industry-specific contents to specialized research databases, we offer a wide range of contents in electronic format—all of it geared toward supporting your research needs.
China/Asia On Demand (CAOD) provides unique searching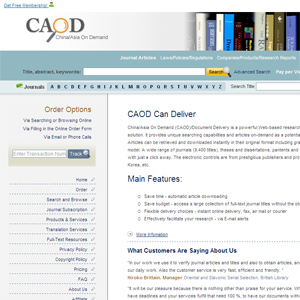 capabilities and articles on-demand. Articles can be retrieved in their original format including graphs and illustrations.A wide range of journals, theses and dissertations, patents and conference proceedings can be requested with just a click away. The electronic contents are from prestigious publishers and providers in Mainland China, Taiwan, Japan, Korea, etc.

Click here to get more details
A rare and primary portal to Chinese Medical materials is provided, China Chinese Medicine, which allowing uses to browse and search among journals, dissertations, conference proceedings, medical companies and products, patens, standards, and related laws and regulations.

Click here to get more details