Oriprobe assembled a comprehensive collection of Chinese laws, regulations and policies, supporting the needs of law libraries, legal information centers, and Chinese legal studies researchers.
Policies, Laws & Regulations of China (China Legal Access) offers an authoritative and professional access to Chinese legal research. It provides information on China's commercial, civil, and administrative laws.
A special package is provided, covering journals, dissertations, conference proceedings, laws, policies, and regulations.

China/Asia On Demand (CAOD)
provides unique searching capabilities and articles on-demand. Article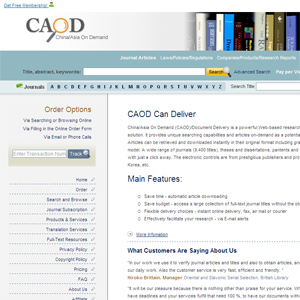 s can be retrieved in their original formatincluding graphs and illustrations. A wide range of journals, theses anddissertations, patents and conference proceedings can be requested with just aclick away. The electronic contents are from prestigious publishers and providers in Mainland China, Taiwan, Japan, Korea, etc.