Oriprobe has been working closely with academic libraries for years, and has deep understanding of their evolving needs. Oriprobe is proficient in providing information services to libraries, especially scholarly databases, including journals, conference proceedings, dissertations and theses, classic literature, and laws & regulations. The collections efficiently support innovative research and teaching across core disciplines related to China. Flexible solutions could be tailored to serve researchers, professors, students, faculty, and patrons.
China/Asia On Demand (CAOD) is brought out for researchers to easily access extended full-text coverage and Chinese legal, business and social issues. Â
CAOD provides unique searching capabilities and articles on-demand. Articles can be retrieved in their original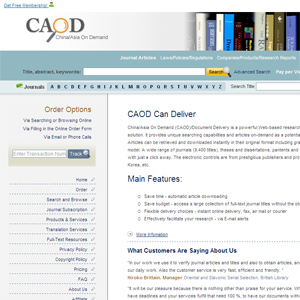 format including graphs and illustrations. A wide range of journals, theses and dissertations, patents and conference proceedings can be requested with just a click away. The electronic contents are from prestigious publishers and providers in Mainland China, Taiwan, Japan, Korea, etc.

Click here to get more details
Oriprobe Information Services has made Policies, Laws & Regulations of China and Chinese Companies & Products bilingual.